firefox extension
Now you can have the power of lingro at your fingertips all the time! Once you install the lingro Firefox extension, instant translations will be available on every page you view. You'll also be able to type in words to look up in the search-as-you-type dictionary on the included toolbar.
The Firefox extension is especially useful for translating words on sites like Facebook which can't be viewed with the web-based version of lingro. And of course lingro will still keep track of all the words you translate so you can review your personal vocabulary history using our study tools and games.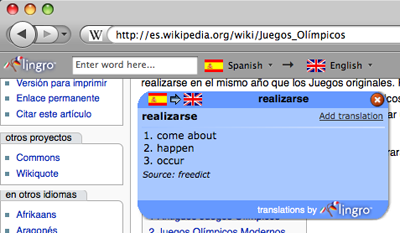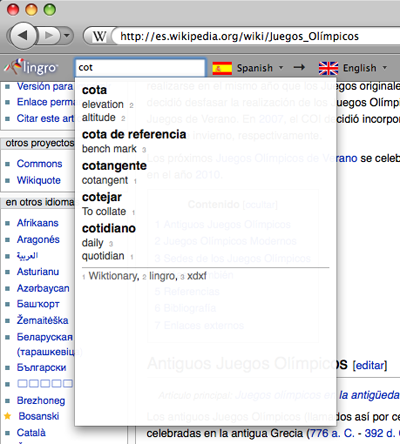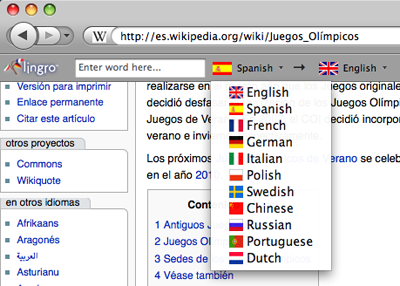 bookmarklets
The lingro browser tools (bookmarklets) allow you to open any site you're viewing using lingro with one click. Once you have copied the bookmarklet to your browser, click it when you're on a page you want to view with lingro. (The bookmarklet doesn't work for sites that require you to log in, such as webmail. We're working on a way around this — stay tuned!)
Firefox, Safari, & Opera
To copy the bookmarklet to your computer, drag this to your bookmarks toolbar:
lingro this page!
quick lingro lookup!

Full-feature bookmarklet
Allows access to all pages on Lingro
Allows multiple tooltips at a time

Ultra-quick bookmarklet
Doesn't show the Lingro toolbar
Shows one tooltip at a time
Internet Explorer
Right-click
here
for the full-feature bookmarklet or
here
for the quick version and then click on
"Add to Favorites..."
in the drop-down menu (see below). The bookmarklet will be stored in your
Favorites
menu.
Drop-down menu: